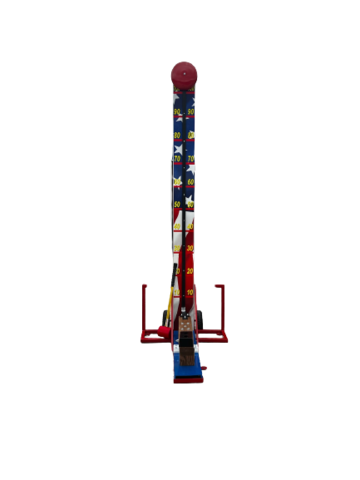 Description
Hi Striker Carnival Game Rental
Looking to add some excitement to your next event in Austin, TX? Look no further than our Hi Striker Carnival Game rental! This classic carnival game is sure to bring out the competitive spirit in your guests.
The Hi Striker Carnival Game is a test of strength and accuracy. Participants will use a mallet to strike a lever, aiming to send a puck up a tower to hit a bell at the top. The harder you strike, the higher the puck will go. It's a thrilling challenge that will have everyone cheering and trying to beat each other's scores.
Our Hi Striker Carnival Game is perfect for all ages and can be enjoyed by both kids and adults. It's a great addition to birthday parties, corporate events, school carnivals, and more. Not only does it provide endless entertainment, but it also encourages friendly competition and builds camaraderie among guests.
When you rent our Hi Striker Carnival Game, you can expect a high-quality and well-maintained setup. Our team will deliver and set up the game, ensuring everything is in perfect working order. We take pride in providing a seamless rental experience, so you can focus on enjoying your event.
So, why wait? Add some carnival fun to your next event with our Hi Striker Carnival Game rental in Austin, TX. Contact us today to reserve your date and let the games begin!