 Product Name
$0 Product Name
$0 Product Name
$0 Product Name
$0 Product Name
$0 Product Name
$0 Product Name
$0 Product Name
$0 Product Name
$0 Product Name
$0 Product Name
$0 Product Name
$0
Choose the Party Rentals Austin Can't Get Enough of With We Bring The Party!
For the best
party rentals Austin
has to offer, choose We Bring The Party LLC! Whether you're hosting a neighborhood block party or planning a family reunion, our team is available to answer any questions, make helpful suggestions, and ensure your event is well-attended and enjoyable for all. We have years of experience providing high-quality, entertaining, and lively event rentals to serve every theme, timeframe, and budget.
We're proud to serve the communities of
Austin, Texas
, and the surrounding areas of Travis County with an assortment of exciting event rentals for every occasion. Take your party to the next level with the added support of a locally owned and operated family business that cares about the outcome of your event just as much as you do. While event planning can be frustrating and complicated in nature, our team is here to make certain every detail is accounted for and to supply the #1 party rentals Austin kids AND adults can't get enough of.
In an effort to make party planning as simple and stress-free as possible, we've built a state-of-the-art online booking system to make it as convenient and straightforward as possible to book the party rentals Austin families, schools, organizations, and businesses choose for all of their exciting celebrations. Feel free to contact our team of party professionals at (737) 980-5867 or book your party rentals online today!
Providing the Best Party Rental Austin Kids AND Adults Enjoy for All Events
Plan an exciting and well-attended event with ease when you book the best party rental Austin students, families, kids, and individuals enjoy year-round! Host a fun-filled bachelorette party, a memorable toddler birthday celebration, or an entertaining school field day with our incredible inventory of inflatables, games, bounce houses, water slides, event furniture, and all of the essentials.

We regularly deliver our party game rentals Austin TX can't get enough of for a range of fun events including birthdays, graduation celebrations, bar or bat mitzvahs, family reunions, festivals, vendor fairs, community events, business grand openings, slumber parties, school field days, bachelor or bachelorette parties, baby showers, gender reveal parties, and any special moments worth celebrating in between! Whether you're searching for Austin TX sweet 16 party rentals or just want to entertain the kids over a long holiday weekend, we're confident we carry the perfect selections to add joy to any event.

Our customers continue to book our selections for the #1 party rental Austin loves because along with unique and eye-catching options, our professional and courteous team delivers on time and sets up with care, ensuring we're out of your hair before guests arrive. Book your rental online with our user-friendly system today!

Wide Selection of Party Event Rentals Austin TX Uses Year-Round
Our options for party event rentals Austin TX uses for all occasions is never-ending! We Bring The Party LLC is your one-stop shop for high-quality, entertaining, and economical event equipment. Our team thinks of everything so you can enjoy your event just as much as your guests. We carry everything from toddler-specific inflatables to tasty concession machines. Take the party up a notch by including a karaoke machine or party speaker and ensure everyone remains comfortable for the duration of the event with heaters, fans, tents, and chairs.

Our all-American party rentals Austin TX chooses for every event include inflatables, bounce houses, water slides, obstacle courses, backyard games, even furniture, combo bounce house slides, mechanical rides, holiday inflatables, and party add-ons. As your all-inclusive party provider, you don't have to spend time shopping around on multiple sites. Book everything you need to throw an over-the-top and festive function with our online store!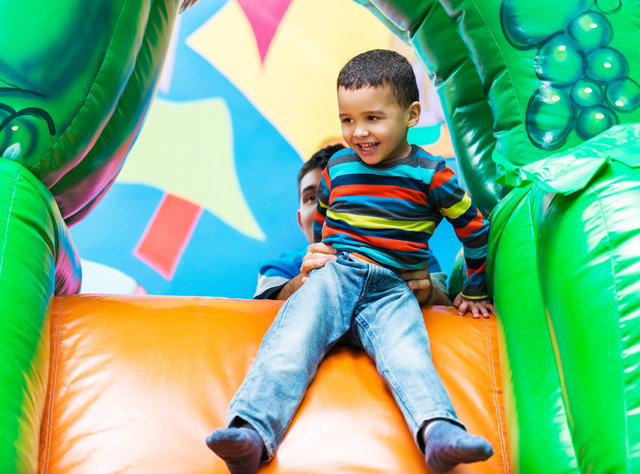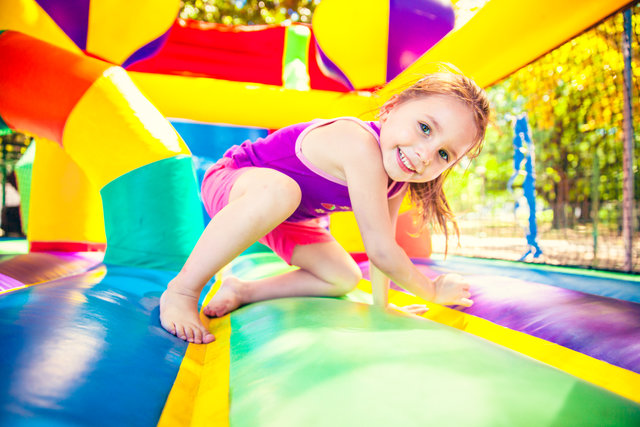 Why Choose Us for Exciting Austin Party Rentals
With years of experience taking events to the next level, we're the top choice for Austin party rentals! Whether you're planning an elaborate back-to-school festival or a small-scale graduation celebration, we have the selections and services that will help make your upcoming party an enjoyable and exciting time for all.

We partner with industry-leading U.S.-based manufacturers to ensure we're supplying the highest quality event and birthday party rentals Austin TX has to offer. All of our inflatables are made with lead-free, fire-resistant vinyl and come equipped with an inflatable splash landing pad or mesh window to ensure adequate ventilation and supervision. Each of our products includes recommended age groups and adult monitoring suggestions for optimum safety AND fun.

We go above and beyond to exceed our customers' expectations by prioritizing on-time delivery, friendly customer service, flexible booking options, and the highest-quality Austin party rentals for every occasion. If you have any questions about scheduling a rental, delivery areas, or other details, our team is available to answer any questions and create a positive booking experience from start to finish. Feel free to give us a call at (737) 980-5867 or submit the inquiry form on our contact page to hear back from one of our staff as soon as possible.

How to Book Party Rentals Austin TX Depends on For Every Occasion
When you're ready to take the next step and book party rentals Austin TX kids AND adults can't get enough of, we offer two convenient options for reserving inflatables, games, equipment, and more. Get in touch with our team directly by giving us a call at (737) 980-5867 or book online using our state-of-the-art scheduling tool.

You'll receive a confirmation email from our team, including a digital receipt and copy of the signed contract for the party rentals Austin TX uses for all events. We'll be in touch leading up to the day of the event to confirm a delivery window that works best for your schedule. If you have any questions about the best inflatable party rentals Austin TX has to offer, don't hesitate to get in touch with our team today!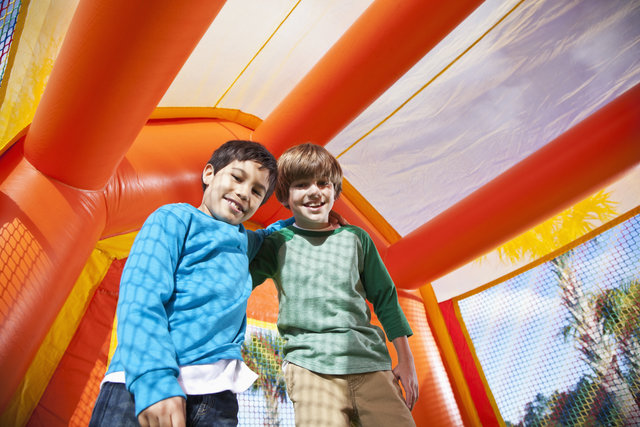 When booking inflatable party equipment rentals Austin TX uses year-round through our website, follow the steps below:

1. From any page of our website, click the red "Book Now" button in the upper right corner or clicks the "Rentals" tab in the menu and select the category you'd like to browse.

2. When using the "Book Now" button, select the date of your event then select the start and end times.

3. Click on individual categories to view products and important information about each rental. Once you've found the best selection for your event, click the red "Book Now" button next to the price.

4. Review information like dimensions, outlets, recommended monitors, and age groups, then click the red "Add to Cart" button.

5. Fill out billing and contact information then submit payment using any major credit card.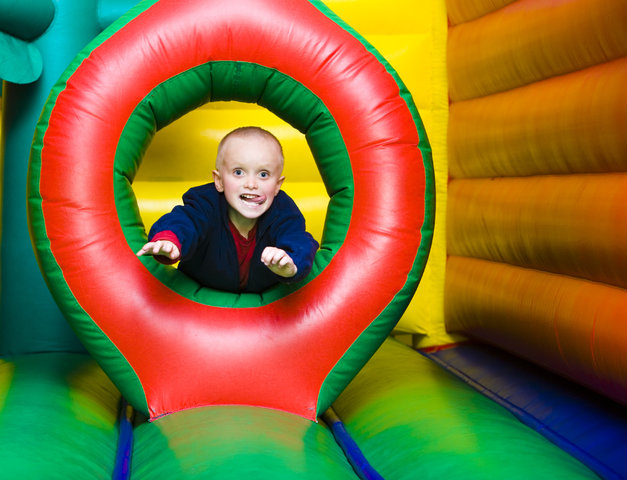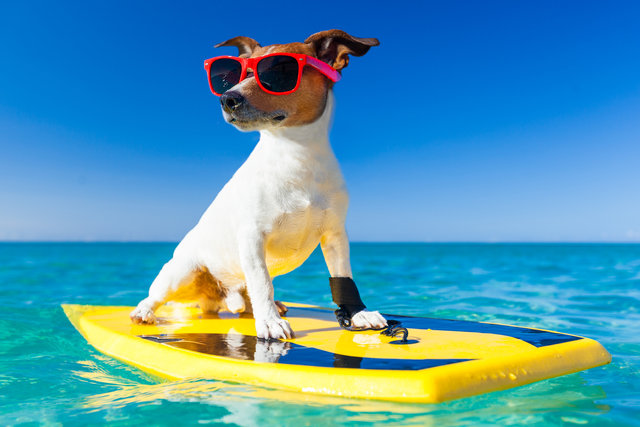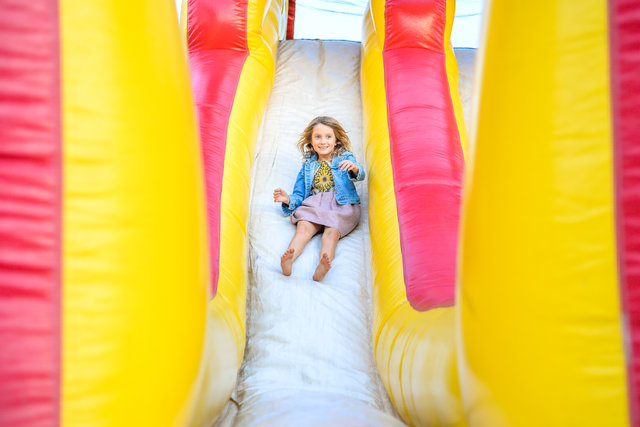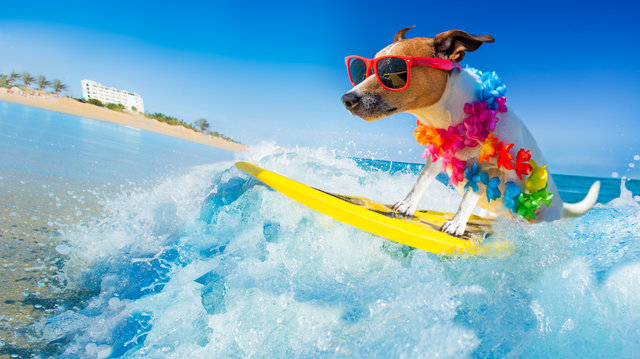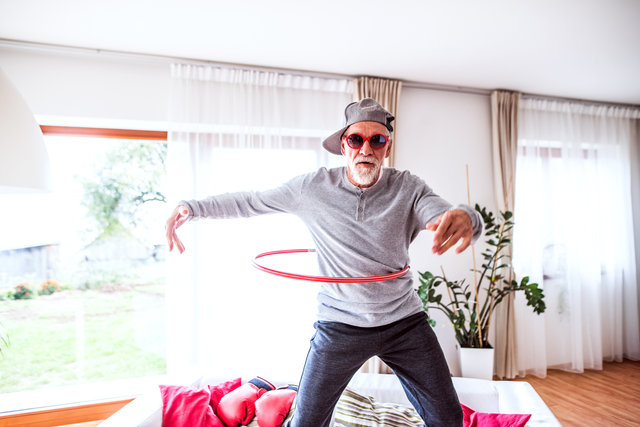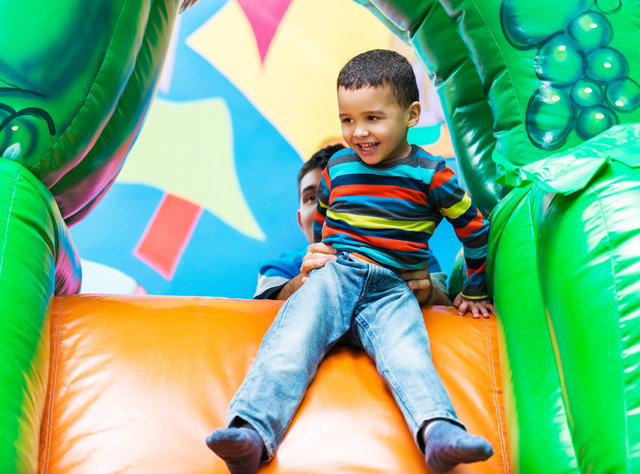 FAQs About Party Rentals in Austin TX
We understand you might need additional information about booking party rentals in Austin TX, so we've compiled a list of frequently asked questions to browse at your convenience below. Our team is available to answer any questions over the phone, so feel free to give us a call at (737) 980-5867 to learn more.

Q.
When do you arrive to set up the party rentals in Austin Texas?

A.
We do our best to arrive up to four hours before the event start time to ensure everything's set up properly and we're out of your hair so you can focus on your guests. In some instances, we'll deliver the night before, but we'll always communicate special circumstances like that prior to the event date.

Q.
Do you require a deposit?
A.
Yes, we require a non-refundable deposit of 33% of the total cost of the rental, up to $500, at which point we require a 50% deposit. If you need to reschedule, we will apply a "raincheck" to your account for up to one year from the original event date if given adequate notice.

Q.
How long is the inflatable rental period?

A.
Our standard base prices include five hours of rental time, however, you can rent for longer periods and our prices are consistently 20% less than the competition! Occasionally we're able to deliver the inflatable earlier, extending your rental timeframe, at no extra cost. We offer the most competitive party equipment rentals Austin TX has to offer and do our best work around our customer's schedules and specific party needs whenever possible.

Fun Things to Do With the Whole Family in Austin, TX
Welcome to Austin, Texas - a city that is famous for its live music, delicious food, and array of outdoor activities! If you're looking for fun things to do with kids, you've come to the right place. Let's explore some of the most exciting and kid-friendly activities that you can enjoy in Austin, TX.
Zilker Park is a beautiful oasis located in the heart of Austin, TX. This 351-acre park offers a variety of activities that are perfect for kids of all ages. From swimming in Barton Springs Pool to taking a ride on the Zilker Zephyr Miniature Train, there is never a dull moment at Zilker Park.
The Thinkery
The Thinkery is a children's museum that is designed to encourage kids to learn and explore through hands-on exhibits. The museum features a variety of interactive exhibits that focus on science, technology, engineering, and math (STEM) topics. With activities like the Light Lab, Spark Shop, and Kitchen Lab, kids will have a blast while learning something new.
Austin Zoo
The Austin Zoo is a non-profit organization that is dedicated to rescuing and rehabilitating animals. The zoo is home to over 300 animals, including lions, tigers, bears, and primates. Visitors can take a train ride around the zoo, feed the animals, and even attend special events like the Zookeeper for a Day program.
Lady Bird Johnson Wildflower Center
The Lady Bird Johnson Wildflower Center is a botanical garden dedicated to the preservation and conservation of native plants. The garden features over 900 species of plants, including wildflowers, cacti, and succulents. Kids can explore the garden's trails, attend a nature program, or even take part in a family workshop.

Austin, TX is a city that is full of fun and exciting activities for kids of all ages. Whether you are looking for outdoor adventures or indoor learning experiences, there is something for everyone. So pack your bags, bring your family, and get ready to have some fun in Austin!
Austin's Rich and Interesting History
Austin has a long and fascinating history that has shaped the city into what it is today and can be traced back to the early 1800s when Anglo-American settlers began to move into the area. The city was named after Stephen F. Austin, who is often referred to as the "Father of Texas." Austin played a significant role in the fight for Texas independence and was one of the key figures in drafting the Texas Constitution.

In the mid-1800s, Austin was selected as the capital of the newly formed Republic of Texas. This decision was made due to its central location and access to water. The city's role as the capital helped spur growth and development, and by the late 1800s, Austin had become a bustling city with a thriving economy.

Throughout the 20th century, Austin continued to grow and evolve. In the 1960s and 1970s, the city became a hub for counterculture movements and the music scene. The Armadillo World Headquarters, a music venue, played a significant role in the development of the city's music scene and helped to establish Austin as the "Live Music Capital of the World."

In the 1980s and 1990s, Austin experienced a surge in technology companies, earning it the nickname "Silicon Hills." The growth of the tech industry helped diversify the city's economy and attract a new wave of residents.

Today, Austin is a vibrant city that celebrates its rich history while embracing innovation and progress. Visitors can explore the Texas State Capitol, which was completed in 1888 and is still one of the city's most iconic landmarks. The city is also home to a variety of museums and historical sites, including the Bullock Texas State History Museum and the Elisabet Ney Museum. There are endless things to do and see in ATX!
Explore the Outdoors With Austin, TX's Local Parks
Austin, Texas, is a city full of outdoor adventure, and its many parks are the perfect places to experience it all. Whether you're looking for a peaceful spot to have a picnic or a place to hike, bike, and explore, Austin's parks offer something for everyone.

Zilker Park is perhaps Austin's most famous park, and for good reason. This 351-acre park is home to some of Austin's most popular attractions, including Barton Springs Pool, the Zilker Zephyr Miniature Train, and the Austin Nature and Science Center. Whether you're looking to swim, hike, or enjoy a picnic with friends and family, Zilker Park has it all. Barton Creek Greenbelt is another favorite park among locals and visitors alike. This 7.25-mile stretch of natural space offers plenty of opportunities for hiking, biking, and swimming. The park is home to several swimming holes, including the popular Twin Falls, Sculpture Falls, and Campbell's Hole. The Barton Creek Greenbelt is the perfect place to escape the hustle and bustle of the city and enjoy some peaceful time in nature.

If you're looking for a park with a stunning view, Mount Bonnell is a must-see. This park sits atop a hill that overlooks the city and offers breathtaking views of downtown Austin and Lake Austin. The park is a popular spot for romantic sunset picnics, and its location also makes it a great place to take photos of the city.

Another great park to visit in Austin is McKinney Falls State Park. This park is located just a few miles from downtown Austin and offers plenty of outdoor activities, including hiking, swimming, and camping. The park is home to two stunning waterfalls, Upper and Lower McKinney Falls, which are perfect for swimming and cooling off on hot summer days.

Austin's parks offer a diverse range of outdoor activities and experiences for visitors of all ages. Whether you're looking to swim, hike, or simply enjoy a picnic with friends and family, there's a park in Austin that's perfect for you. So pack your picnic basket, grab your hiking boots, and get ready to explore the beautiful parks of Austin, TX.
Delivering the Fun with Selections for a Party Rental Austin TX Can Count On
We're proud to bring the fun to our incredible customers by delivering amazing selections for a party rental Austin TX can count on all year long. We're happy to offer delivery to a wide portion of Travis County, including the 78610, 78613, 78617, 78641, 78652, 78653, 78660, 78664, 78681, 78701, 78702, 78703, 78704, 78705, 78712, 78717, 78719, 78721, 78722, 78723, 78724, 78725, 78726, 78727, 78728, 78729, 78730, 78731, 78732, 78733, 78734, 78735, 78736, 78737, 78738, 78739, 78741, 78742, 78744, 78745, 78746, 78747, 78748, 78749, 78750, 78751, 78752, 78753, 78754, 78756, 78757, 78758, and 78759 zip codes. We offer delivery to neighboring cities including Manor, Georgetown, Hutto, Cedar Park, Taylor, Leander, and Pflugerville, among other areas. If you need assistance outside of the listed scope, contact our team to see if arrangements can be made to suit your party's needs today.

We regularly partner with local businesses, community organizations, individuals, and Austin Independent School District to help throw unforgettable events with our Austin TX party rentals. Our years of experience and engaging inventory help us provide the never-ending fun any event needs to ensure attendees have a blast.

Our customers enjoy setting up in our beautiful parks, including Balcones District Park, Emma Long Metropolitan Park, or Walnut Creek Metropolitan Park.

Most public parks do not supply electricity, so make sure you have all of the necessary party rental Austin TX equipment, including a generator, tents, or games from our team.
Book the Party Rental Austin Texas Customers Give 5-Stars!
We're thrilled to join in on the fun and provide options for a party rental Austin Texas families, community organizations, businesses, and individuals can depend on. We've delivered the fun to thousands of events over the years and cherish being involved in all of the special moments that make life so sweet. From backyard birthday parties to large anniversary celebrations and every valuable moment in between, it's our greatest pleasure to build lasting relationships and celebrate with our amazing customers.

Our staff is available and happy to guide you through the process to make sure you have a positive, stress-free event rental experience from start to finish. Take a look at a selection of our 5-star reviews below and get in touch with our team if you have any questions before booking the best Texas party rentals Austin TX has to offer today!

"We Bring the Party made my son's 1st birthday party a great time. I called Trevor and he actually answered unlike other companies and asked me what my son's theme was for his birthday. When I told him it was a mickey mouse theme he recommended a mickey mouse banner for the bounce house. Needless to say with all of his great customer service they have a lifetime customer."

-Jennifer M.
"We rented the wave castle bounce house/water slide combo (also the snow cone machine, 6' tables and chairs) last weekend for my 4 yr olds birthday party. It was a HUGE hit for the kiddos! The We Bring the Party crew did an awesome job setting up and tearing down. The unit itself was flawless.... Was so clean it looked brand new! Very impressed with this company. Highly recommend and will definitely be using them again in the future! Thanks for making our party awesome!"
-Stefanie H.