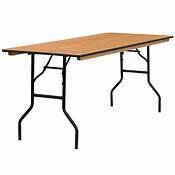 Description
Looking for a sturdy and elegant table for your next event in Austin, TX? Our 6ft Wood Rectangle Table rental is the perfect choice! Made from high-quality wood, this table is both durable and stylish, making it ideal for a variety of occasions, including weddings, corporate events, and family gatherings.
With its sleek and modern design, this table is sure to impress your guests and provide a comfortable and functional space for dining, socializing, or conducting business. It can comfortably seat up to six guests, making it perfect for small to medium-sized events.
Easy to set up and transport, our 6ft Wood Rectangle Table rental is a convenient and affordable option for any event planner or host. So why wait? Contact us today to reserve your table and take your event to the next level!