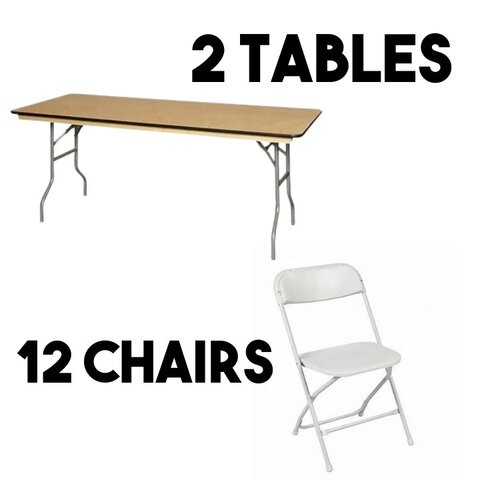 Description
Looking to host a memorable event in Austin, TX? Look no further than our 2 Tables and 12 Chairs rental package! This versatile package is perfect for a variety of events, from outdoor weddings and corporate events to family reunions and backyard barbecues. Our high-quality tables and chairs are sturdy and comfortable, making them perfect for guests of all ages.
Our tables are designed to seat up to six guests each, providing ample space for dining, gaming, or socializing. The chairs are sleek and stylish, with a comfortable design that will keep your guests comfortable throughout the event. Whether you're hosting a formal dinner or a casual gathering, our tables and chairs are the perfect choice.
At our rental company, we pride ourselves on providing exceptional customer service and high-quality rental equipment. Our team of experts will work with you to ensure that your event is a success, from helping you choose the right package to delivering and setting up the equipment at your event location. Contact us today to learn more about our 2 Tables and 12 Chairs rental package and start planning your next event in Austin, TX!