Bar Stool - White Cushion - Gold Frame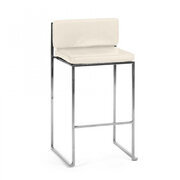 Description
Introducing our stunning Bar Stool with a White Cushion and Gold Frame. This bar stool is the perfect addition to any modern home or commercial space. The white cushion provides a comfortable seating experience, while the gold frame adds a touch of elegance and sophistication to any room.
Crafted with high-quality materials, this bar stool is built to last. The sturdy gold frame is made from durable metal, ensuring maximum stability and support. The white cushion is made from soft and durable fabric that is easy to clean and maintain.
This bar stool is not only comfortable and stylish, but also versatile. It can be used in a variety of settings such as kitchen islands, home bars, cafes, restaurants, and more. The sleek and modern design of this bar stool is sure to impress your guests and elevate the overall aesthetic of your space.
Upgrade your home or commercial space with our Bar Stool with White Cushion and Gold Frame today!